You are here:
Home
Fall Sports
Football
News
News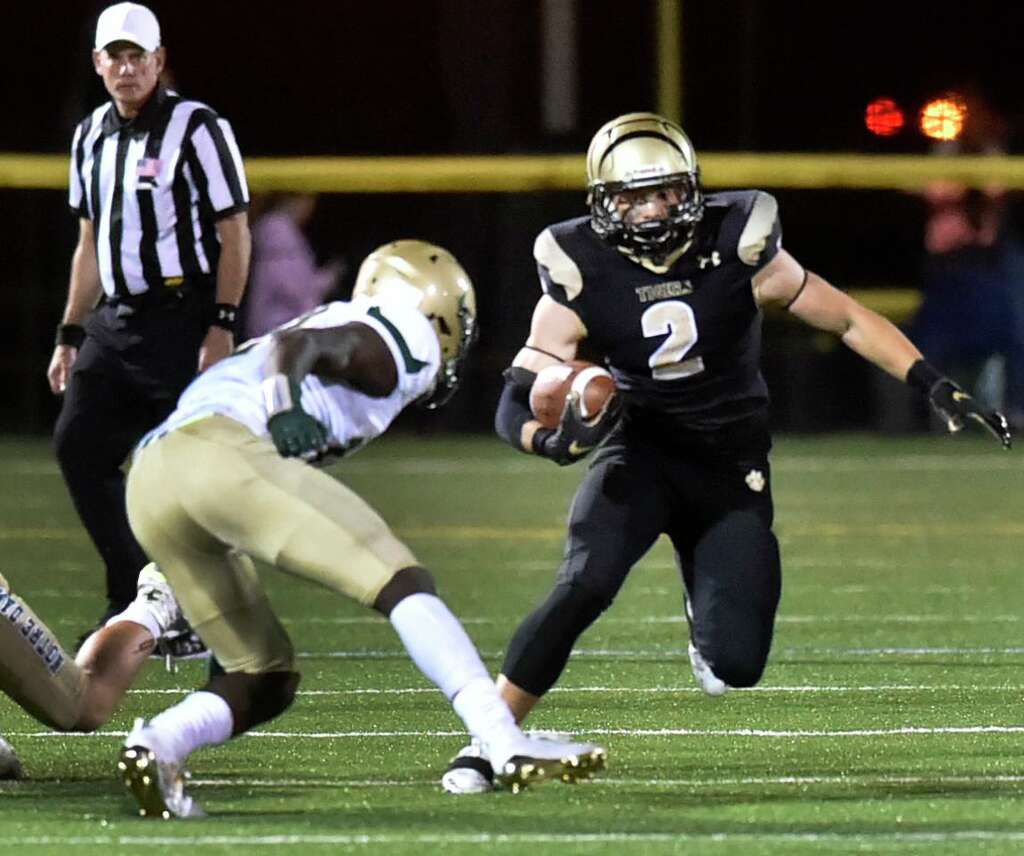 The 2020 SCC football schedule has been finalized. Click here to access the 2020 schedule.
In 2020, there will be three tiers:
Tier 1:  Cheshire, Daniel Hand, Fairfield Prep, North Haven, Notre Dame, Shelton, Xavier
Tier 2: Amity Regional, Hamden, Harding, Hillhouse, Sheehan, West Haven, Wibur Cross
Tier 3:  Bassick, Branford, East Haven, Foran, Guilford, Jonathan Law, Lyman Hall 
On Feb. 7, the Connecticut High School Football Alliance announced its 2020 schedule, completing the schedules for the SCC's 21 football schools.
The 26th annual SCC All-Conference Football banquet was held on Sunday, Dec. 22 at Anthony's Ocean View in New Haven.
Special thanks to the presenting sponsor - the Casey/O'Brien New Haven chapter of the National Football Foundation as well as event sponsors - Walter Camp Foundation, New Haven Gridiron Club and Riddell.
Click here for the event program with listing of the 74 All-Conference players
Congratulations to the COS NOW/SCC Player and Coaches of the Year
Tier 1 Player of Year: Colin McCabe, RB, Daniel Hand
Tier 2 Player of Year: Terrence Bogan, RB, Sheehan
Tier 3 Player of Year: Charles Walcott, RB, Guilford
Tier 1 Coach of Year: David Mastroianni (Daniel Hand)
Tier 2 Coach of Year: Tom Dyer (Hamden)
Tier 3 Coach of Year: Scott Benoit (East Haven)
Walter Camp All-Connecticut Team
Thirteen SCC football players were named to the Walter Camp All-Connecticut teams. 10 players earned First Team honors, with three earning Second Team accolades.  In addition, Daniel Hand's Phoenix Billings and Sheehan's Terrence Bogan are finalists for the Player of the Year award, while David Mastroianni (Daniel Hand) and John Ferrazzi (Sheehan) are finalists for the Coach of the Year honor.

First Team Offense
QB: Phoenix Billings (Daniel Hand), RB: Terrence Bogan (Sheehan), WR: Jordan Davis (Sheehan), TE: Ethan Haberman (Daniel Hand), OL: Tom Bambrick (Daniel Hand), Will Bergin (Cheshire), Troy Rainey (Harding)
First Team Defense
DL: Ben Corniello (Daniel Hand), Joe DiGello (Amity Regional)
Special Teams
Athlete/Returner: Colin McCabe (Daniel Hand)
Second Team Defense
DB: Tyler Pjatek (Shelton), DL:  Mike Lockavitch (Shelton), Braedon McCarthy (Sheehan) 
Connecticut High School Coaches Association All-State
Twenty-seven players from the Southern Connecticut Conference were selected to the Connecticut High School Coaches Association's all-state football teams.
Head coaches throughout the state voted on the teams for each of the four all-state class teams designated by the class sizes of the schools – Class LL, Class L, Class M and Class S – and from that voting there was a selection of the state's top players who were moved up from their respective class teams to the Top 26 team.
There are seven SCC players on the Top 26, including three from Class L runner-up Daniel Hand (DL Ben Corniello, QB Pheonix Billings, RB Colin McCabe) and two from Class S state champion Sheehan (RB Terrence Bogan, DB Jordan Davis). In addition, Shelton defensive lineman Mike Lockavitch and Harding two-way lineman Troy Rainey made the Top 26. 
Positions were provided only for reference on the Top 26, while the all-state teams for each of the four classes were separated into players designated for the offense and the defense.
Class LL Offense:  Phil Sissick (Shelton, OL), Chris Pigatt (Hamden, WR), Max McGillicuddy (Fairfield Prep, WR), Jake McAlinden (Cheshire, RB)
Class LL Defense: Chisom Okoro (Cheshire, DL), Joe Digello (Amity Regional, LB), Nick Morris (Fairfield Prep, LB), Chino Grant (Wilbur Cross, LB), Tyler Pjatak (Shelton, DB)
Class L Offense: Tom Bambrick (Daniel Hand, OL), Nico Garea (Notre Dame, OL), Luke Maruca (North Haven, OL), Omar Henry (Hillhouse, OL), K.J. Grisham (Xavier, WR), Charles Walcott (Guilford, RB)
Class L Defense: Tommy Candelora (Notre Dame, DB), Marcelius Ruiz (Xavier, LB)
Class M Offense: Shakespeare Rodriquez (Lyman Hall, WR), Andrew Janik (Foran, QB)
Class S Defense: Braedon McCarthy (Sheehan, DL)
The CHSCA will announce a Player of the Year, Coach of the Year, Assistant Coach of the Year, and Team of the Year during its annual All-State Banquet at the Aqua Turf Club in Southington on Jan. 12.
State Championship Schedule - Saturday, Dec. 14
Class S:  Sheehan 64, Bloomfield 33... It is Sheehan's first state final as a SCC member (and its first since 1985).  Titans finish 11-2.
Class L: St. Joseph 17, Daniel Hand 13... Tigers finished 12-1
***
Three SCC football teams - Cheshire (Class LL), Daniel Hand (Class L) and Sheehan (Class S) - qualified for the 2019 state playoffs. 
Class LL Quarterfinals - at Simsbury 17, Cheshire 14
Class L Quarterfinals - at Daniel Hand 52, Newington 0

Class S Quarterfinals - at Sheehan 51, Woodland 0

Class L Semifinals - at Daniel Hand 42, Maloney 0  - game story courtesy of GameTimeCT.com
Class S Semifinals - Sheehan 30, at Ansonia 22 - game story courtesy of GameTimeCT.com
Week #12  - Nov. 28
North Haven 49, at Amity Regional 13 (Nov. 27)
Daniel Hand 61, at Guilford 6 (Nov. 27)
at Fairfield Prep 28, West Haven 0
at Hillhouse 37, Wilbur Cross 0

at Branford 35, East Haven 7
Foran 31, at Jonathan Law 7

at Sheehan 56, Lyman Hall 0

Notre Dame 42, at Hamden 7
Southington 21, at Cheshire 20 (3 OT)

Harding 30, at Bridgeport Central 3

Shelton 35, at Derby 0
| Su | Mo | Tu | We | Th | Fr | Sa |
| --- | --- | --- | --- | --- | --- | --- |
| 1 | 2 | 3 | 4 | 5 | 6 | 7 |
| 8 | 9 | 10 | 11 | 12 | 13 | 14 |
| 15 | 16 | 17 | 18 | 19 | 20 | 21 |
| 22 | 23 | 24 | 25 | 26 | 27 | 28 |
| 29 | 30 | 31 | | | | |